正文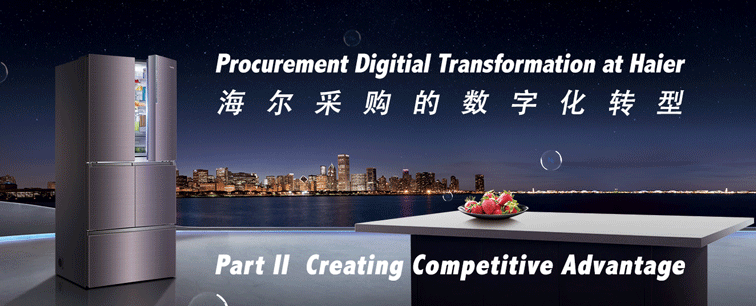 written by: Tony Wai, President, SCMC Ltd.
Supply management can help create competitive advantage directly in several ways:
Source to support attractive and innovative product offering
Optimize Cost 
Timely delivery of sourced goods with quality that enables quick and agile respond to market demand
Supply management may also impact overall competitiveness of a company indirectly by enhancing visibility, communication and relationships among stakeholders, processes and suppliers, and by improving efficiency for supply management itself as well as the supply chain collaboration processes.  
Haidayuan supports all of the above.
1. Innovation at Digital Speed 
Quickly adapting innovation often gives manufacturers a competitive edge for their products in the market.  This may be in form of new style aesthetic design, new feature and functions that adapts new technology, or techniques/process/design that improves manufacturability, serviceability, reliability and cost.  Product innovation requires efficiently funnelling-in of a great deal of new knowledge, idea and expertise from as much sources as possible, and direct product expertise that can quickly make decision to integrate them.  Procurement being in the frontline of potential innovation from supply market often lacks this level of expertise to properly identify nor able to quickly make decision to adapt.  Engineering usually doesn't have direct exposure to supply base.
Traditionally, the sourcing process starts with a specification or requirement that are incorporated into a RFx document and sent to suppliers by procurement. Suppliers submit bids base on fixed requirements without the ability to communicate directly with the product team.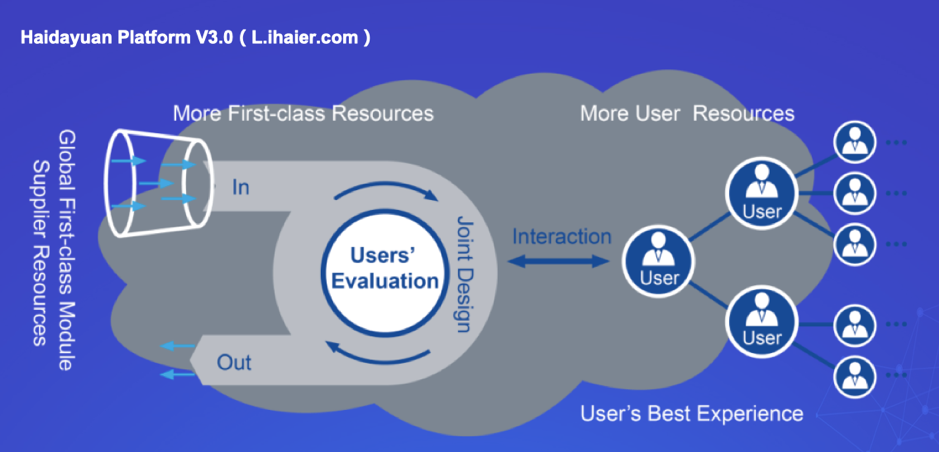 Haidayuan changed this with provision of a direct collaboration environment for engineering, product owner and suppliers, connecting real time market demand information and leveraging all suppliers' technical expertise, without going through procurement as the middle stage.  Supply management becomes a facilitator of this collaboration.  This totally changed the way traditional purchasing was done, where supplier can only reference to an engineering drawings or spec on paper document provided by procurement.  Direct communication of requirements eliminating intermediate layer that generates distortion or loss of information results in more thorough understanding of requirement and capturing of essence and details, while interactions helps to bring in new idea, innovation and new technologies from supplier inspires better design approaches, which may be employed immediately by engineering or product owners.
With Haidayuan, sourcing starts at market demand and conceptualization, with supplier involvement occurring early in the design stage.  ESI, or Early Supplier Involvement, is a practice widely adapted by mainstream corporate procurement function to help add value to product development, bring in innovations, ensure availability, improve production quality and lower cost. The practice, if done right, will help to ensure accountability and alignment throughout the product development and launch processes.  
Haidayuan enables total supplier involvement, making supplier part of the design process from product inception, allowing them to injecting innovative new ideas for conceptualization, and offering their own technical input to make a better product base on visible market requirement data gathered from multiple consumer end points that are open and available to suppliers.  Potential suppliers are engaged to provide competitive solutions to enhance and finalize the product specification based on customer needs and desires.  
Suppliers would interact with internal stakeholders, directly listen to their real needs, participate in front-end design and provide supply solutions complying to Haier's modular interface standard.  After suppliers viewed the requirements, they can interact with the engineering and manufacturing through a collaborative R&D system connected to the system to further clarify the requirements.  They can also initiate new topics themselves to suggest better solution in addition to existing requisition.  Not only dialogue and communicate can be created, transmission and shared viewing of 3D concept diagram on the design software is also possible. Haidayuan has facilitated more than 30000 such design collaboration sessions.
Leveraging a full interactive design capability, many large international companies are actively participating in this system and helped Haier develop sophisticated world-class solutions.  By seeing and acting on end-requirements early on, suppliers are also able to better leverage their own advantage, bid and capture a higher portion of supply to products they are involved with their unique value in module solution, giving them a higher incentive to participate early on.  
By facilitating the direct collaboration, procurement helps enhance competitive advantage leveraging full potential from suppliers, eliminating all back-and-forth middle-man communication in a hands-off fashion, significantly improve procurement operation efficiency and reduce error.  Xiaolin Wang, director of Process and Platform puts it straight-forward: "Our open innovation initiatives allows us to stay competitive agilely. The process enables decentralized, distributed and engaged decision making in digital speed."
2. Driving Continuous Cost Advantage
In addition to innovation, cost advantage is often created through volume leverage and supplier competition.  Haidayuan automatically enables solution bidding in almost every requisition, creating a perpetual competitive pressure among suppliers, and heighten visibility for such competition.  Solution bidding articulates the importance of technical advantage of an offer, while open competition encourages cost optimization. 
When new requisition is raised, Internal stakeholder releases demand requirement directly on Haidayuan, which is fully visible to all registered suppliers.  Suppliers may independently take action to bid for the potential business directly online base on their solution expertise.  The process is facilitated by procurement with transparency and without procurement's direct intervention.
Suppliers may respond to two types of demands: open and designated, depending on their previous involvement.
Open requisition, normally open to all potential suppliers, will have specific focus: 
technology leadership — mainly seeking technical solutions 
operational excellence — mainly seeking cost optimization, and 
differentiation — mainly seeking alternative or program nature-specific solution 
Designated requisition, mostly specific to those with relevant existing business relationship or those with specific technical or IP/patent exclusivity, may include customer-mandated requirement, derivative requirement, engineering improvement requirement, and other procurement specified requirement.
Stakeholders issuing requisition makes selection decision alone based on the best overall solution and volume leveraged cost.  Once the solution is selected, accepted price and order quantity allocation are automatically posted into Haier's ERP system for purchase order without any human intervention.  At this point, Haidayuan automatically produces an electronic purchase order online for the winning supplier.  The contracting process is complete once the supplier acknowledges and accepts the purchase order online. 
Through this solution-leading approach, order will continue to be awarded to the supplier as long as its solution continues to demonstrate best value from user and consumer ratings.  Open competitions would drive on-going design and development capability from suppliers to delivers optimized and up-to-date solutions.  The supplier's share of business will be at risk of being replaced if other's solutions prevail, creating a perpetual competitive pressure for suppliers to stay ahead of the curve.  In contrast to traditional process where order allocation is prioritized by offered price through procurement, solution-leading approach also allows for optimal volume consolidation and long-term contract leverage for more cost advantage.  
Through value-optimized leveraging and continuous solution improvement for all procurement transactions through the platform, $200M saving per year on average in the 4 year was achieved over $7B of annual direct procurement volume, representing an impressive 2.9-percent contribution to gross margin improvement.
3. SRM Optimizes Delivery Performance
A. Enhanced Incentive for Supplier Participation
Suppliers are willing and eager to take on the strategy as this allows them to be fully involved in new product development early on with more control and better opportunities to capture and secure a large portion of the business for that productas it's "designed in".  Embraco, a refrigerator module solution supplier participated in a complete process of user-collaboration design on the Haidayuan platform.  The process has offered Embraco infinite creativity and boundless potential, resulted in a cooling compressor solution that is air-suspended and oil-free, in a leading-edge league.  As the solution was accepted by the product stakeholder, order awarded to Embraco doubled their install base from 50000 to over 100000.  
Another core refrigerator component supplier also saw demand for their component module solution increased 3 folds since they were able to involve in the product design process enabled by Haidayuan.  "We can see customer feedbacks directly in first hand and full transparency. New product design or product improvement requirements are generated from data sources that collect mass market customer feedback, in real time, and we have opportunities to respond to those demands or address issues with our technical resources directly", Marcus, general manager of this supplier described how his team works with Haidayuan, "this also gives us the first opportunity early on with proposals that precisely address customer needs, without the requirement translation-lost through the market àengineering àprocurement àsupplier process in the traditional supplier-buyer relationship".  His company's share of supplied component of those products has increased from 10% to 90% in the last 3 years.  
To help enhance supplier solution visibility, Haidayuan provides a solution demonstration "supermarket" area for each supplier, where the supplier can independently showcase their leading solutions.  This also allows product stakeholders to "browse and shop" for potential solutions from the registered supply base, providing a way for active and targeted solicitation by internal users rather than just passively waiting for supplier response and bidding after releasing a requisition, improving source availability.
B. User rated Supplier Performance 
The supplier performance management process is largely automated. Haidayuan uses an algorithm tied to TQRDC+B (technical/engineering, quality, responsiveness, delivery, cost and bottom-line) evaluation criteria (see Table 1).  Haidayuan captures rating input from internal stakeholders in engineering, production, quality and product management as well as from end-user customers, channel partners and field-services continuously, and cross reference them via data from multiple systems to generate supplier performance result.  The defect rate on Quality category comes from terminal users and is sent directly to suppliers.  
Table 1: TQRDC 5-dimension + Baseline supplier evaluation model 
T (R&D)

Top-class module solutions
New product progress & pass rate

D (Delivery)

On time delivery
T-1* JIT guarantee
Delivery complaint

Q (Quality)

Quality level (onsite/in-market)
Issue remedy & execution

C (Cost)

New product competitiveness
Quotation accuracy

R (Response)

Response rate to demand requisitions
Response rate to end-user complaint 

B (Bottom line)

12. Legal compliance

13. Major breach

14. Corruption
*T minus 1, denotes one day advanced delivery commitment
Since actual consumer user rating directly impact supplier performance, user online ratings are blockchain tracked in real time and cannot be altered. This links supplier performance directly to customer outcome.  For instance, a compressor supplier can receive information in real time from a customer in Guangzhou through an onsite tracking system that her refrigerator is broken and it's diagnosed as a compressor malfunction. Similar information is gathered through 28 systems and analysed automatically by module, product line and supplier rating.  Information are openly shared on the platform. 
For high value critical modules, IoT is currently being evaluated and pilot put to used, which will eventually feed live performance or defect data in real time from product in used at the consumers' home or business site.
Policies, procedures and subsequent enforcing actions are setup in the system and executed automatically. All policies, KPI, comprehensive evaluation metrics and bottom line criteria are fully open to suppliers. Performance tracking and consequence action are executed by the system through an algorithm that's driven by established policy.  
C. Self-optimization
All performance information and exception items are shown on the related party's dashboard on the system in real time.  The module suppliers and stakeholders are jointly held responsible for the performance of the end product in the market. Suppliers are ultimately held fully accountable for the performance of their module(s).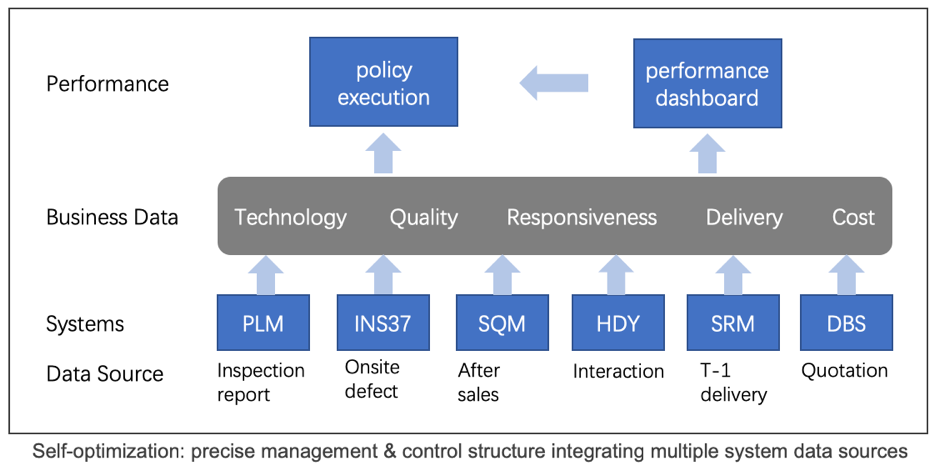 Parties involved with a product receive automated messages about their performance and any issues, such as defects, that arise. Performance information and issues also are displayed publicly for a time period, where suppliers must take corrective action within that timeframe, and progress is monitored throughout by supply management. 
Through the platform, suppliers can respond by connecting and interacting directly with end-users to develop solutions to issues.  For example, after receiving poor-quality ratings and subsequently interacting with end-users, a supplier that makes door locks for washers upgraded the design and manufacturing of its product immediately. The defect rate soon reduced to virtually zero.
Non-performing supplier can be replaced by new performers, too.  A newly registered supplier learned of a customer complaint pertaining to a refrigerator door design, and quickly submitted an improved solution. The solution was quickly accepted, and the supplier was approved and onboard within three months. 
The algorithm and live data driven performance management system on Haidayuan created a continuously monitoring, self-optimizing mechanism, where action for poor performers are taken automatically, and outstanding performance are tracked consistently.  This process helps drastically improve product quality, reliability and manufacturing efficiency.
4. Improve Sourcing Efficiency
Haidayuan helped transformed procurement working model via process automation in 6 areas.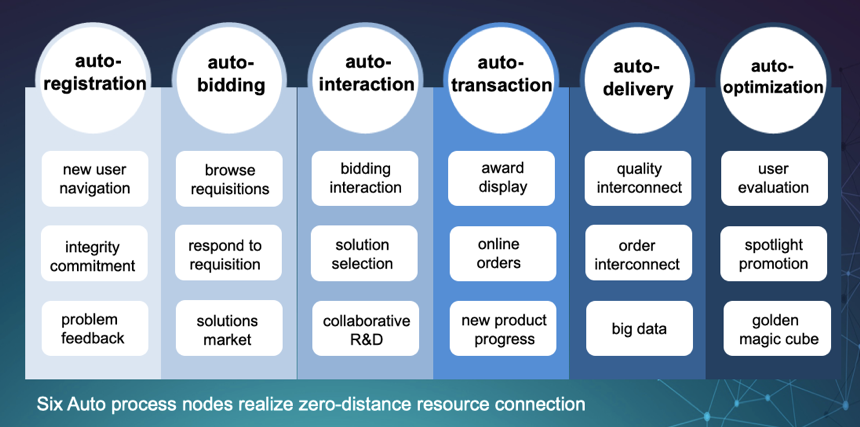 Supplier registration automation enables frictionless open sourcing 
Haidayuan allows any business worldwide to register as potential suppliers without any friction or cost, making it easy for any qualified potential suppliers to enter.  To get their foot in the door, potential suppliers would need to submit proof of business registration to verify their identity and indicate that they are willing to make some basic operation commitment.  Existing incumbents are required to work online as registered suppliers also.  
Robotic Process Automation highly improved the efficiency for this process.  The system is connected to risk profile data base aggregated from multiple sources including the State Business Registry, court order records registry and other public/private sources of adverse business records, giving it the ability to automatically filter out undesired and blacklisted suppliers, and check out whether the registering supplier meets certain bottom-line criteria at this stage.
Blockchain reducesSupplier onboard time
Self-commitment after registration is an important step to approve a supplier.  Suppliers are asked by the system to make their own written promise online for module design capabilities, module quality assurance capabilities, module supply capabilities, and management capabilities for sub-tier suppliers, as well as social responsibility and ethics statements. These assurance statement by suppliers are authenticated and logged on to blockchain record and irreversible.  
Procurement team than verifies self-committed suppliers in person. This is the only step that supply management professionals are physically involved.  Measurement are in place with penalty and potential blacklisting if suppliers made false statement.  This process also provides an optimizing mechanism that only highly qualified suppliers are in the supply base, eliminating potential waste of resources managing suppliers with insufficient credential.
If these criteria are checked out and verified through physical site audit and inspection, Haidayuan will proceed and approve potential suppliers into supply base that are qualified to bid.  A general framework contract is signed at this stage.  
This base-qualifying supplier approval process enabled by the platform is a fundamental change from traditional sourcing process.  Traditionally, new supplier qualification and onboarding took as much as 6 or more months.  The platform now allows supplier to submit solutions as soon as self-commitment process is complete, shortening the supplier onboard lead time, as defined from initial registration to order awarded, by up to 75%.
Automated P2P Cycle processes improve delivery performance
Multiple data sources connectivity that helps tracking live supplier delivery performance also supports P2P cycle automation as they are somewhat dependent of each other.  To ensure delivery quality, Haidayuan has a guided process that goes through PPAP (Production Part Approval Process), placing small batch trial production order first.  Volume production order is committed only after delivery quality meeting production requirement is verified.  The platform also connects to the company's ERP system to release JIT (Just in Time) delivery orders once volume production commences. 
Payment request is triggered automatically by Haidayuan to the company's ERP system base on contract terms and conditions, taking into account of continuous supplier rating and performance monitoring status, completing the loop in handling delivery and quality concerns in the same spot.
The automated Procure-to-Pay (P2P) process cycle minimized human intervention from the procurement organization, greatly improving efficiency and cutting process time.  Supply professionals now focus on facilitating, problem solving, exception handling and relationships rather than repeated processes.
5. The Transformation 
Supply Management at Haier has successfully created competitive advantage for the company through digital transformation realized on the Haidayuan platform.  Relying on multiple data sources, blockchain, RPA, algorithm, together with established, standardized and transparent policies and procedures, Haidayuan centrally controls a consistent and transparent process that optimized supplier performance and continuously develop higher calibre suppliers.  Business units at product line level supported through Haidayuan's uniform coordination, clear supply status visibility and fast local order decisions enables agile response to the market.
In the process, procurement role was transformed from process execution to process and solution facilitation.  Supply management becomes more streamlined and standardized, taking ownership at the business group top level for developing and improving processes for the digital platforms, designing, refining and tuning policies and analytics to enable better optimization and decision making by all stakeholders.  Customer satisfaction improved 11% year over year, and new product development cycle time reduced by 50% after the 4 years Haidayuan is deployed.  
The transformation achievement illustrates how a traditional manufacturer in an old industry can invigorate new life through adoption of digital technology.  Next, let's go behind the scene through Haier procurement's transformation journey and challenges, and look at how company strategies and overall business transformation initiatives played the role to enable the functional transformation achievement.